EBC Braided Brake Hose Kit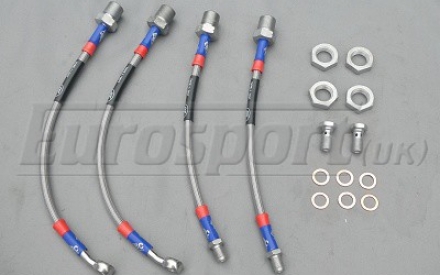 EBC stainless high performance braided brake line kit. This item comes complete with the necessary short length banjo bolts that would normally be extra on other kits. Eliminates sponginess under heavy braking. Abrasion and corrosion resistant. Clear braid covering with EBC logo print. 100% pressure tested FMVSS-106 compliant, DOT, TÜV, ADR DEKRA, ARAI, CCC, ISO9001 accredited. Made in the UK
Note: 1) Unlike standard hoses, the EBC unions are clamped to the bodywork mounting bracket using the supplied nuts and do not require a retaining clip (lock plate). However, the front mounting brackets may require minor modification with a file to remove the locating flats used for the standard unions prior to fitting. 2) The short length banjo bolts use a slightly larger 9/16" drive as opposed to 14mm for the original bolts.
Code: BR304 Lancia Montecarlo 899 BRA1400881059STA